Palacaguina Christian Academy
PCA is a bilingual christian school nestled in a small, green mountainside, on the NE side of Palacaguina, Nicaragua. PCA's initial goal upon the school's opening in February 2017 is to educate children from pre-k to kindergarten with a planned expansion, adding a grade level every year until PCA becomes a fully operating pre-school, primary school and secondary school for the students of Palacaguina. PCA will also provide space for community events, bible studies, college classes and a library that not only students will use, but will be available to the community at large as the only library in town. PCA is a needed and wanted addition to the town of Palacaguina for it's unique status as the only bilingual school in the region. PCA will serve as a launching point to give students access to a brighter future.
PCA is bilingual: PCA seeks to emerge kids in an english language classroom, recognizing that exposure to a new language at a child's young age, increases a child's ability to learn a second language and greatly effects english comprehension once the student becomes an adult. The community and the government of Nicaragua aspire that their students learn english specifically as many of the better paying jobs as adults are reserved for those who can speak english as well as spanish.
PCA is a christian school: The region of Palacaguina lacks christian school options for students. We believe that true long term change for a student's future starts with a relationship with Jesus Christ. While we do not require our students to be or become Christians, we do expose them to the love of Christ daily and equip them to make the decision for themselves when they are ready.
PCA creates quality facilities: We have gone to great lengths to create positive learning environments for our students, above and beyond what is usually required. We worked with quality building materials to reduce heat retention in the classrooms, we installed private toilets in every pre-school room, (The first private toilet installed in the entire town was in 2012), and we have painted children's murals on the walls to help the school rooms shine. Around the campus grounds, PCA will eventually be shaded and cool, in thanks to the local governments donation of hundreds of tree shoots. PCA has plans as well for a garden in the future.
Community enrichment: The PCA facility will exist as a pre-12th grade school during school hours, to be used after the school day ends as a facility to meet various needs within the community. Some of the community needs to be met are as follows: after school english enrichment immersion classes, after school student activities such as taekwondo, english education classes for adults, trade school classes hosted by community members, and the possibility of a nearby university hosting evening classes once the secondary classrooms are completed (which would not have been possible without PCA in the community).
It was a timely reminder today that as believers, we walk by faith and not by sight. I know in my life, it feels so much more secure to only go where I can see. But that is not what God has called us to is it? No, God has called us to a life of faith. Which is a life trusting in God to lead and guide us in every step. Even when we cannot see the outcome or the destination. The starting years of PCA were such a blind leap of faith at every step. And I will be honest, it was a hope that future years would be more stable and visible. But today, being reminding of 2 Corinthians 5:7, it is clear to me that any venture, any ministry that is not consistently done in and through faith is probably more about us than it is about God.
The next few months will determine many things for PCA and the future of our students. By God's grace, we have been working diligently to meet all requirements to open and operate the High School. Thank you, Jesus, that we have received written approvals from the local and regional offices. We are only awaiting written approval from the national office, and we will have the permission we need to begin High School. Now we must step up our prayer.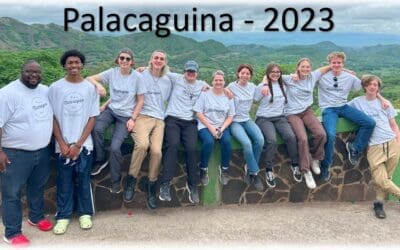 Traveling to Nicaragua is amazing. Every time, it feels so good to be in-country. It feels so much like home. And to be traveling with my son, Jonah, priceless. I am so grateful to share with you the summary of our trip in June and I hope it will encourage you to join us on a trip to Palacaguina in the future. Our group of 16 included a family from Austin, TX and a youth group from Aurora, CO.