[vc_row][vc_column][vc_column_text]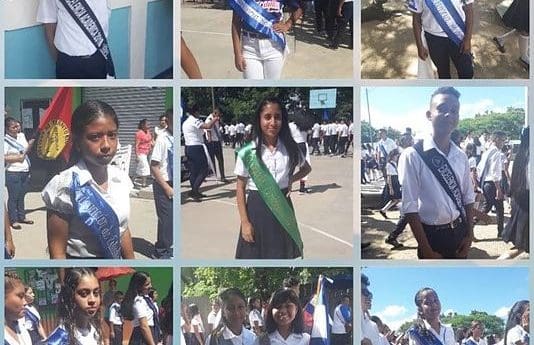 Life is always difficult in Nicaragua, in ways that most of us in the U.S. cannnot understand or imagine. Since April, however, life has been especially difficult due to political unrest which has caused a significant downturn in an already poor economy. Every day I find myself worrying about this country and these people that I love so much. But just last week I received a report from Yanerling Loza, Smiling School Kids (SSK) Director in Palacaguina, and one section of that report brought a great big smile to my face. Here it is:
The month of September was a festive month in the school system.
As always, each year the primary and secondary students parade through the streets of our city to celebrate a national holiday. We use this event to deliver to the children in our program their second pair of shoes.
Also, in this parade the best students are presented awards, including a sash that signifies that they are the best student in their class.
As you see, many students in our program have achieved this high honor. We also have many other children who are excelling in school. It gives us much joy to know that the help you are offering is showing good results for so many students.
SSK links especially needy students in Nicaragua with sponsors in the U.S. For $80 sponsors provide their child with a school uniform, shoes, a backpack, and school supplies for the year. In this time of crisis and grim economic circumstances, it is so nice to know that God is still working miracles every day. That individuals in this country with a big heart can impact a life down there in ways that cannot be measured. That these students, so appreciative of the support there are receiving, can continue to study and to excel in spite of the grim reality of daily life they face. Want to know more?
Scott Votey, Secretary, 516NOW
[/vc_column_text][/vc_column][/vc_row]